1. In game name: You know me as Unabomber Sporkz Captain of NME
2. Real life age: 27
3 Approximate character skills: N/A
4 Darkfall playstyle: 2.0 I plan on playing a Warrior primarily.
5 How long have you been playing DF? 2009
6 What other clans have you been in?
Murder Herd - They quit the game, good people still play FPS with them on occasion
Red Sky - Starter clan, Got me on my feet when i returned.
Dominion - Taught me basic fundamentals
UDL - Gave me scripts and taught me rotations, until Type Forced and me butted heads
NME Alliance - My home, Taught me everything I knew and after Abso left the party, things were just not quite the same.
7 Personal Info:
Started playing games back on EQ Rallos Zek server, then played DAOC on Mordred and Merlin for 5 years. Hopped around various mmo's till Darkfall came around. Tons more but they are the highlights

I work as an IT professional for a Hospital.
Single Parent, means my play time can be erratic at times.
8 What you are looking for in clan? Good stable leadership and to hopefully get away from the darkfall normalcy of nerd raging every death.
9 What can Absolution do for you? There has been this itch on the middle of my back that I can't...quite...reach...
I like it :-)

That dog one is an awesome idea! *hunts down his chocolate lab*
_________________
Una hit me up on Facebook earlier today. Him and some of his friends from NME are going to be transitioning over to our team.

It'll be exciting to have them back a part of our group! Welcome! Register your account via the email that was sent to you (check your spam folder if you didn't get it) and we'll get you accepted!

Great to see you and thanks for keeping Abso in your mind for 2.0!
_________________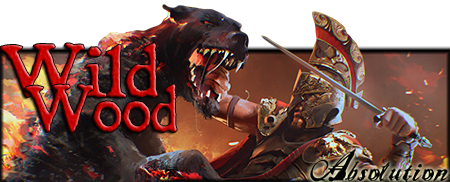 Slavyn
Battlefield 4/Origin:  
xWildWoodx
XBox One:
Ix TiTAN xl (ix Titan xL)
silk boxers




Posts

: 3882


Join date

: 2012-01-02


Age

: 36


Location

: Pottstown, PA



Have you considered selling your child in order to devote more time towards playing games? The extra money could be spent on hookers and blow.
_________________
Grand Inquisitor Diplomatypus




Posts

: 6260


Join date

: 2012-01-02



mmm baby liver...

I registered my account Wild, should be good to go there (i clicked some link!)
_________________
Forumlurker 1500




Posts

: 1660


Join date

: 2012-06-08



Back Stabath wrote:spy
Who are you?
_________________
Forum Major




Posts

: 498


Join date

: 2012-07-08



Talth wrote:Teamwork!
When i saw this i could not stop laughing!




Posts

: 8


Join date

: 2012-11-11




Similar topics
---
Permissions in this forum:
You
cannot
reply to topics in this forum