1. In game name:
- Kou Graph (DF1)...Unsure of DF2 name as of now since I'll likely reroll.

2. Real life age:
- 25

3 Approximate character skills:
- Made a funny little Alfar Warrior as of now. Brand new character though, so I'll roll whatever the hell is necessary

4 Darkfall playstyle:
- In DF1 I was a somewhat competitive player with a lot more time on my hands. Having said that, this time around my goal in DF2 will be to enjoy the living hell out of it while I can. I won't lie, I will occasionally play this game after a few (lot) of drinks (Reborn can attest to this) but it usually results in success as far as I'm concerned.

5 How long have you been playing DF?
- Started playing DF1 in mid-December 2010.

6 What other clans have you been in? (What did you like/dislike?)
- Scare Bears: First clan that I officially joined in April 2011 as a total scrub with Sixpiece McNugget (Who I knew in Asheron's Call) and had a blast...unfortunately our activity started to slow down around July 2011 which was when we joined NME.

- NME: Played with NME until the death of DF1, which is how I came to know Abso. Would not trade this experience for anything and I can't go much further than that without writing a novel. I will say that despite our differences towards the end I'm entirely positive that our time spent as allies was a success. Plus I laughed my ass clear off when grouped with most of the Abso crew during sieges. (which is really why I'm here in the first place)

7 Personal Info: (Gaming history, play schedule, job, or whatever else you want to share)
- Unfortunately I won't be able to devote the same level of commitment as I did in DF1 due to my current job which is pretty demanding

8 What you are looking for in clan?
- Above all I'm looking for a good group of people who know how to have fun while still being able to flip the "serious face" switch every once in a while in PvP.

9 What can Absolution do for you?
- Honestly....record more videos of Talth singing. How is there only one official video?...ridiculous
Kou Graph!

Thanks for the PM last night, it was good to hear from you, it's been a while.

I'm glad to see you're giving DFUW a chance.

What's Six up to these days?
_________________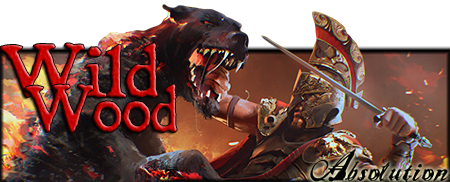 Slavyn
Battlefield 4/Origin:  
xWildWoodx
XBox One:
Ix TiTAN xl (ix Titan xL)
silk boxers




Posts

: 3884


Join date

: 2012-01-02


Age

: 37


Location

: Pottstown, PA



Here is the big question though.

Are you really a Kou? How many vassals do you have?
_________________
Grand Inquisitor Diplomatypus




Posts

: 6290


Join date

: 2012-01-02



welcome fellow NME defect!
_________________
Forum General




Posts

: 632


Join date

: 2012-11-10



Haha, I was a Kou when I made that DF character so I'll always be a Kou. Grandfathered in by my Kou'ness at all times...that's how I got my gym membership discount
Sixpiece is hesitant about the game so far, he's been patching the old fashioned way (through the launcher) so he's on day 2 of that. I'm sure he'll be giving the game a shot though so we'll see him soon enough
KouGraph wrote:he's been patching the old fashioned way (through the launcher) so he's on day 2 of that.
It's like a minigame!
_________________
  STEAM - paxprobellum
  DF: Rise of Agon
    Beleg Bigacks, Dorf
  Gemstone IV
    Lord Raiak the Dark Elf Sorcerer
    Bigacks the Dwarf Warrior
  Shroud of the Avatar
  Smite - paxx
Forum God




Posts

: 6066


Join date

: 2012-01-02


Age

: 32


Location

: Flip, flip, flipadelphia



Also, you'll need to register your account's email to activate an account here -- check your inbox.
_________________
  STEAM - paxprobellum
  DF: Rise of Agon
    Beleg Bigacks, Dorf
  Gemstone IV
    Lord Raiak the Dark Elf Sorcerer
    Bigacks the Dwarf Warrior
  Shroud of the Avatar
  Smite - paxx
Forum God




Posts

: 6066


Join date

: 2012-01-02


Age

: 32


Location

: Flip, flip, flipadelphia




---
Permissions in this forum:
You
cannot
reply to topics in this forum