1. Game name:  Pink Floyd

2. Real life age:  39

3. Game playing with Abso: 

I played with and against Wild Wood.  In UW Beta, a bunch of us played Chivalry...and Reborn kicked our asses with the goddamn polearms.

4. Reason for applying:
I haven't played in a year and a half or so.  Tried out a bunch of other games, none of which have given me the same feeling that Darkfall has.  I know that DFO and DF:UW are totally different games; that said, I want to play a game with consequences.

5. What other clans/groups are you affiliated with? (past or present):
I was affiliated with WW's favorite person the world, Dest Locke, and his crew.  I started my UW experience off with Insidious Prophecy. 

6. Personal Info: (Gaming history, play schedule, job, or whatever else you want to share)

I've been known as a clan hopper in days past, usually after quitting the game of Darkfall, then coming back.  I'd like to think that I've changed.  I consider WW a buddy; I've had the fucker on FB for a couple of years.

I've recently found out that I had some blood in my poop, and I'm scheduled for an intensive exam at the Borland-Groover clinic this coming up Thursday.  Hopefully it amounts to nothing. 

I have a 4 year old daughter and a pretty kick-ass wife. 

My short days are 10 hours; my long days are 12-14 hours. I can be on late on Wednesdays, Fridays, Saturdays, and some Tuesday nights.

7. What can Absolution do for you?

Absolution can bring back that lovin' feelin'.  Bartlbe; maybe that bastard can teach me some things.  I still  owe him for burning the everloving fuck out of me in Chiv.  And I've always loved me some WW.

8. Do you have a sponsor? If so, who?

No sponsor, but I'd like to think that a long-standing relationship with Abso could act as my sponsor.  If not, then fuck it - my sponsors all left me to join the LA Kings.

9. Repeat after me: "I have a microphone and I will use Mumble!"
I have a microphone and I will use Mumble!

Fly, Eagles, Fly.


Forum Sergeant




Posts

: 105


Join date

: 2014-08-02


Age

: 43


Location

: Jacksonville, FL



I am your sponsor, you friggin hippy.

Welcome back home.

Accepted in game. Register your forum acct with the activation email sent to you.

I'm going to bed, I can't keep my eyes open any longer.

/salute
_________________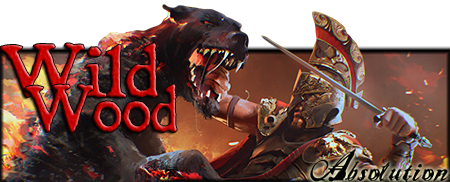 Slavyn
Battlefield 4/Origin:  
xWildWoodx
XBox One:
Ix TiTAN xl (ix Titan xL)
silk boxers




Posts

: 3884


Join date

: 2012-01-02


Age

: 37


Location

: Pottstown, PA



Welcome to the clan!
_________________
Absolution- "We'll kill you."
"I get it, I'm bad for business." - Me
Special thanks to Bartlebe for the wonderful sig banner!<3(X2)
Steam - billie_d_kidd
Darkfall UW - RIP
Shroud of the Avatar - Talth MaeDWillow
~ Ours is not to question why ours is but to do and die. ~
canadian unicorn




Posts

: 5


Join date

: 2012-01-03


Age

: 22


Location

: Texas...the desert....



I think I chived with this dude.
_________________
Anyone considering playing Albion Online, please register your account with this link:
https://albiononline.com/?ref=7QB4TTP4CR
doosh




Posts

: 2975


Join date

: 2012-01-05



only if you still have the bacon mask
_________________
we must spread our principles, not with words but with deeds, for this is the most popular, the most potent, and the most irresistible form of propaganda. "Bakunin"
-Cagori Rei
Dearly Departed Abso in Spirit




Posts

: 2507


Join date

: 2012-10-03


Location

: Belgium



The bacon mask will never go away, Cag.  Thanks for taking in a wayward son.  I love you guys.  Kinda.
_________________
Forum Sergeant




Posts

: 105


Join date

: 2014-08-02


Age

: 43


Location

: Jacksonville, FL



welcome back, bro
_________________
  STEAM - paxprobellum
  DF: Rise of Agon
    Beleg Bigacks, Dorf
  Gemstone IV
    Lord Raiak the Dark Elf Sorcerer
    Bigacks the Dwarf Warrior
  Shroud of the Avatar
  Smite - paxx
Forum God




Posts

: 6066


Join date

: 2012-01-02


Age

: 32


Location

: Flip, flip, flipadelphia




---
Permissions in this forum:
You
cannot
reply to topics in this forum